"超完整EAL资料库"
—
Persepolis
篇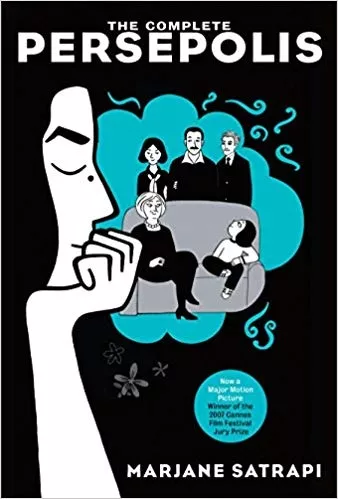 欢迎大家收看优佳出品的"超完整EAL资料库"
我们今天会在这篇文章中介绍Persepolis的书本简介、人物特点、themes quotes以及key points。
那么首先呢,先来看看由帅气又有才华的James老师录制的一段Persepolis的视频介绍吧。
(对Persepolis想要深入了解拿高分的同学可以来找我们的James老师噢)
这本书通过一个早熟而且坦率直白的女孩Marjane的眼睛,揭示了伊斯兰革命时期,基要主义者掌握大权后伊朗人民希望的破灭的故事。玛嘉是一位异想天开的9岁少女,出身于德黑兰的一个左翼知识分子家庭,外祖父是卡扎尔王朝的一个王子,也是一个共产主义者,最后死在伊朗沙阿的监狱中,父母都在政治上支持马克思主义事业并反对巴列维国王的统治,最敬爱的阿鲁什叔叔则是信仰共产主义的伊朗人民党的成员,尝尽流亡和坐牢的苦头。她喜爱西方文化,酷爱偶像李小龙。真主和马克思是她的密友,成天爱幻想,梦想是成为全宇宙最后一位先知。聪明而大胆的Marjane,设法瞒过官方的爪牙,认识了朋克、ABBA和Iron Maiden乐队,两伊战争的爆发,让人们的生活陷入无边的恐惧中,伊斯兰原教旨主义者掌握了大权,在国内实行政教合一制度,推行极其保守的社会政策,严格控制西方文化传播,在学校强制灌输伊斯兰教义,女性被迫戴上头巾,宗教警察在街头监视着人们的一言一行,饮酒及各种为伊斯兰教法所不容忍的娱乐都被禁止,阿鲁什叔叔等共产主义者被处决,神权当局的蛊惑驱使大量青年在两伊战争中成为炮灰。这一切让玛嘉感到极其压抑。她的叛逆和不安分让双亲和外祖母不时感到担忧,周遭的人也认为她是怪孩子,保守的伊朗妇女认为她是西方腐败的象征。她喜爱的一切不被保守的祖国所接受,她只能偷偷地去买黑胶唱片和所有喜爱的东西。原本以为日子可以如此幻想地过下去,不过国内的政治局势继续恶化,并且随着Marjane年龄的增长,她的大胆让父母对她的安全越来越担忧,她14岁那年,他们终于做出艰难决定,把她送往欧洲的奥地利上学。
在成长的岁月中不断地发生苦难,身在他乡、孤独脆弱的Marjane经受了青少年惯常的苦难折磨,而且经常被等同于她所逃离的宗教基要主义和极端主义,对此她毫不退缩,极力辩白,最终赢得了认可,甚至有了爱情的体验,但是她也被爱情刺得遍体鳞伤。在高中毕业后,Marjane结交了男朋友,度过了一段幸福时光,后来发现了男朋友的背叛,让她痛不欲生,Marjane又恢复到孑然一身,而且患上了严重的思乡病。她感到一切都很迷茫,她开始怀念家乡和双亲,还有外祖母和她身上的茉莉香。由于她经常露宿街头,患上了支气管炎,昏倒在街边,被别人送往医院,并且得到了救助。Marjane在病床上醒来后,决定给父母打电话,并让父母保证什么都不问,父母答应了,之后Marjane她选择回到家乡,她决定回国。尽管这意味着她要重新戴起面纱,生活在一个专制的社会中,但是Marjane还是决定回到伊朗家人的身边。经过一个艰难的调整期,Marjane进入艺术学校并嫁作人妇,她仍然没有改变自己仗义直言的个性,继续针砭时弊。24岁时她意识到,尽管自己是个道道地地的伊朗人,却无法在这个国家生活,于是她做出了痛苦的决定,离开家乡前往法国,尽管过去被烙上了不可磨灭的印记,但她却要追求一个乐观光明的未来。

Characteristic lists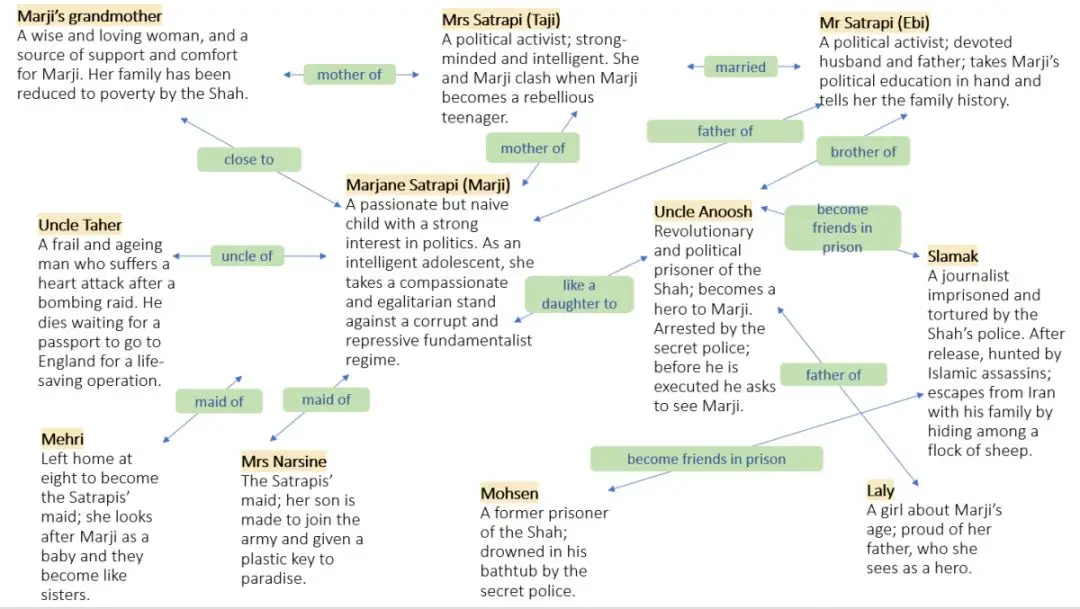 (点击查看大图)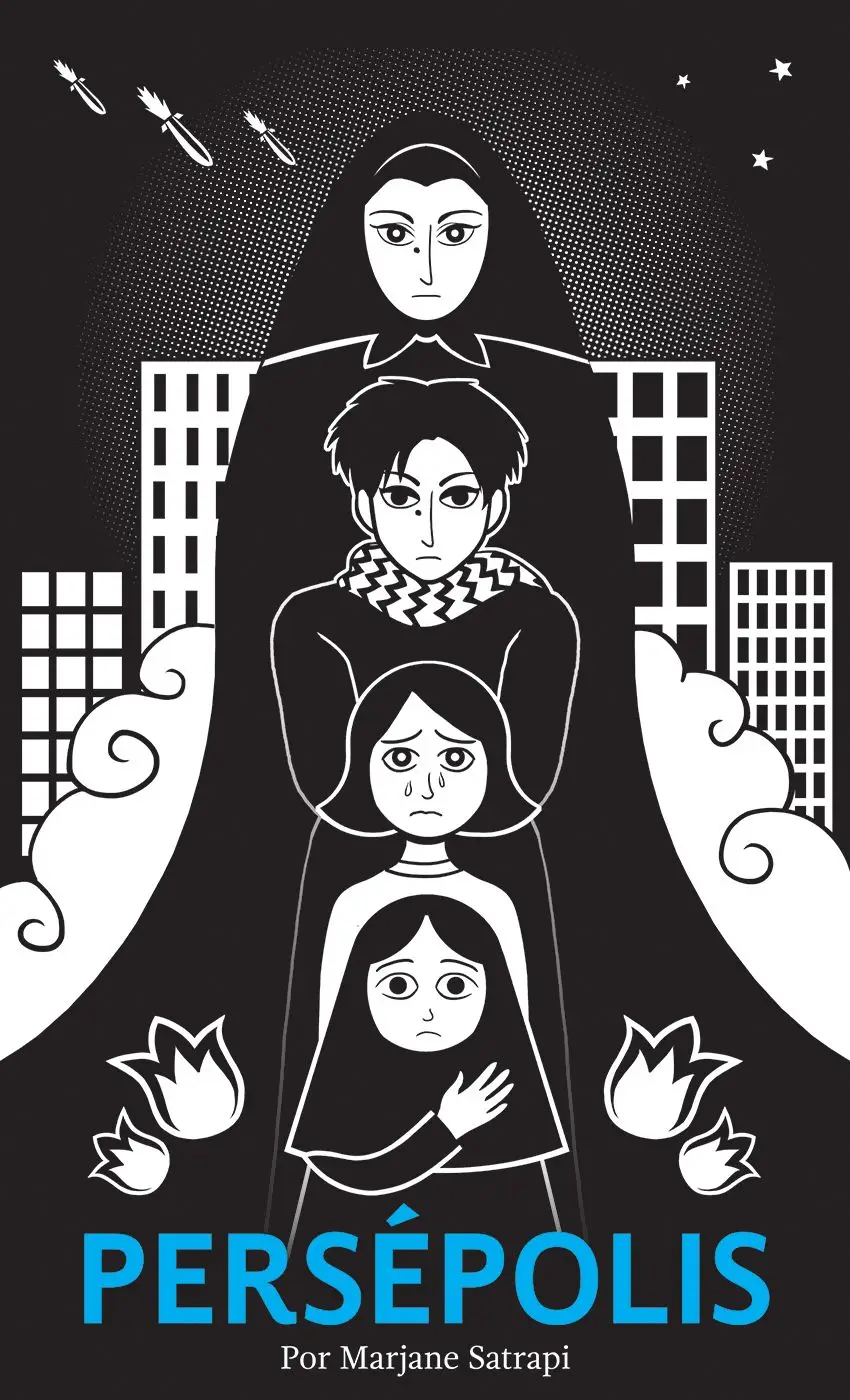 Marjane is a strong-willed, sometimes confused protagonist who we follow from childhood to burgeoning adulthood over the course of Persepolis. Theconfusion stems from her valiant attempts at trying to understand the embattled and restrictiveworld that she lives in—post-Revolution Iran—as well as her attempts at trying to maintain her dignity, independence, and individuality among often senseless torture, suffering, and death. The main threats to her sense of self and growth are the new regime's restrictive measures, most notably the imposition that all women must wear the veil, which disallows in public the kind of modernoutlook and expression that Marjane would prefer. As a child, she must contend with being thrust into the consequences of the adult world without being fully able or allowed—even by her mother and father, who try to protecther—to understand the shadowy mechanisms that dictate the often times sorrowful fates of her friends and members of her family. She reacts to the forces around her by variously denying, lashing out against,  emulating, supporting, or resigning herself to them.

Quotes
'As for me, I love the King, he was chosen by God.'
'…if women's hair got men excited the same thing could be said of men's bare arms.  And so, wearing short-sleeved shirts was also forbidden. There was a kind of justice after all.'
'I will always be true to myself.'
Marjane's Mother, Mrs Taji Satrapi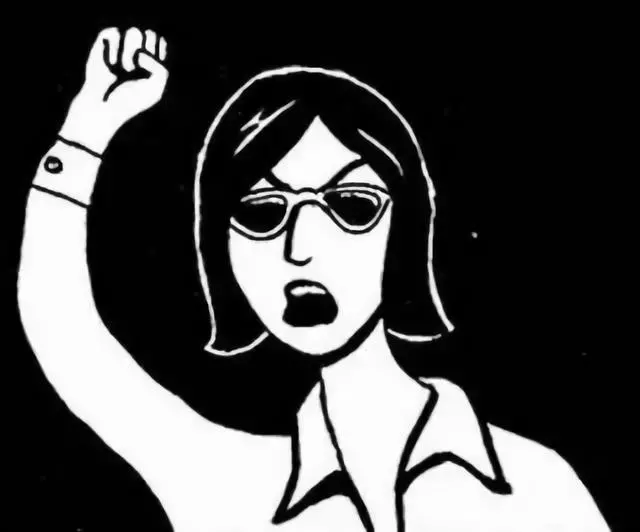 Both of Marjane's parents are considered radicals and revolutionaries. Marjane is proud of her mother and what her mother is able to achieve in her protesting, but her mother is aware of the risks she is taking to further her causes. In a place were standing out is dangerous, Mrs Satrapi is concerned for her daughter. She wants to raise her as an independent woman but knows the downfall of doing so in a conservative society. Mrs Satrapi encourages Marjane to read, read, read and to question everything. She wants her to live her own life and to succeed at anything she puts her mind too.Mrs Satrapi shows throughout the text how resourceful she can be, such as when she sends Marjane to get extra groceries after chiding other women for hoarding the exact same items. She is also the one who realised how to smuggle the posters back into Tehran for Marjane. Marjane eventually realises that "For an Iranian mother, my mom was very permissive" (P131). Marjane"s mother is very good at changing the subject away from something she does not wish to discuss such as the death of her neighbor's or how terrible Marjane is at cooking. Marjane initially thinks her mother is very strict but realises how liberal she is and that she has only restricted Marjane from doing things to protect her.
'…it is not for you and me to do justice. I'd even say we have to learn to forgive.'
'Our country has always known war and martyrs. So, like my father said: "when a big wave comes. Lower
your head and let it pass!"'
Marjane's Father, Mr Ebi Satrapi
He is at first a photographer and often finds himself in difficult and dangerous situations, mostly taking photos of the political protests.  Marjane does not see her father as a hero, despite what he is doing. She desperately wants him to be one asshe has romanticised what this means. "My father was not a hero", she says (Page 52). It takes her a long time to change her narrow definition of hero. As Mr. Satrapi is not as physically imposing as others he is skeptical of many things. He is of a smaller stature than some of those around him. He checks everything out from two different news sources and likes hearing the other side of the story. As a result, he's a great source of information on what is really going on in Iran, both for Marjane and for the reader.  When Marjane returns to Iran after living in Vienna, she sees just how
beaten and broken down her parents are from staying in the country. Her father always hoped to enact social change and, it never happened. He realises this early in the novel and puts his passion and energy into Marjane and who she can become within their world.
'…in this country you must stay within your own social class.'
'You can't always believe what they say… The BBC is broadcasting too. Where's the radio?'
"How can you be insensitive to the woman you love?"
Who fled to the USSR after Fereydoon is caught and executed for opposing the Shah. He returns to Iran to see his family but, though disguised, gets imprisoned. Hebecomes a role model for Marjane, who considers him a hero. However, after the revolutionaries take full power they again arrest Anoosh (just because he was antiShah does not mean his views accord with the new regime's). He gets sent to prison again and executed, but not before Marjane gets to speak to him one more time in jail and he gives her a second bread swan.
 'After the separation, I felt very lonely. I missed my country, my parents, my brothers. Idreamt about them often.'
'Everything will be alright!'
We never learn Marjane's grandmother's name. Even so, she is a huge influence on Marjane. She is not averse to stretching the truth when it's needed (such as lying to soldiers). She also keeps her bra fresh by putting a fresh sprig of lavender in it each day, as well as icing her breasts for ten minutes each morning and night to keep them firm and round. Marjane's Grandmother is the one who always tells Marjane to be true to herself, perhaps oneof the most important lessons that Marjane learns and one of the hardest things to follow. Marjane keeps the memory of her grandmother close whilst living in Vienna. This memory allows her to feel good about her nationality and herself.
'To survive I took in sewing and with the leftover material, I made clothes for the whole family.'
'…there is nothing worse than bitterness and vengeance…Always keep your dignity and be true to yourself.'
Marjane's Uncle, he dies from his fourth heart attack after being frightened by an exploded grenade.Before he dies, knowing of his ill-health, Marjane's family tries to get him a fake passport through Khosro, but Khosro flees from the regime and a real, government-issued passport arrives only on the same day as Taher's burial.
'The butcher told me he's seen kids executed in the street without even having been judged. The shame of it.'
'I have only one wish, and that's to see my son again, one last time.'
Mehridia, or Mehri, was Marjane's family's maid when Marjane was a child. She was purchased from her family by the Satrapi's when she was 8 years old. At times throughout the text Marjane sees her almost as a sister – an illiterate, lower caste sister. When Mehri was 16 and Marjane was 8 she fell in love with the boy next door. When Mr Satrapi found out he confronted the father of the boy and the two were forbidden to date due to a vast difference in their class system. This is one of the first times Marjane is confronted with what the class system means in Iran and the inequity of how people live. Marjane talks Mehri into attending a protest. They arrive home late, to a very worried Mrs Satrapi. We only see Mehri for 6 pages, the next time a maid is mentioned when Marjane is older it is no longer Mehri. The implication is she was let go due to these two incidents.
'She was eight years old when she had to leave her parents' home to come to work for us'
'Long live the republic!'
For a long time he is a political prisoner of the Shah's regime. He is released but later targeted for assassination. His assassins do not fnd him and kill his sister instead. He flees across the border hidden among a flock of sheep with his family.
'…when they arrested me, Laly barely spoke and now she is a real young lady.'
He is for a long time a political prisoner of the Shah's before being released after the ousting of the Shah. He is then murdered in his bathtub by the Revolutionaries.
'Me dead?  What a joke! In prison they called me the man with seven lives.'
Mali, her husband and their two sons
Marjane's Mother's childhood friend who stays with Satrapi family after their house in destroyed in southern Iran during the start of the Iraq-Iran War. Mali's Husband – Mali's husband, who also lives with the Satrapi's for a while after his own house gets destroyed. Marjane's Father considers him very materialistic. Mali's Two Boys – Mali's children. These young boys are materialistic and not very aware of their family's losses and deprivations incurred during the Iraq-Iran War.
'To have the Iraqis attack, and to lose in an instant everything you had built over a lifetime, that's one thing… But to spat upon by your own kind, it is intolerable!'
A young communist, Khosro hides this woman until she is caught and executed. Marjane's parents use her as an example to explain to Marjane of the dangers that young women face when arrested. Niloufar was forcibly married off to a prison guard and raped before execution because it is illegal to kill a virgin woman by the strict religious guidelines of Iranian law. To add rutal insult to terrible injury, Niloufar's family was then sent a dowry for the wedding after the execution.
'500 tumans for the life and virginity of an innocent girl.'
'Niloufar was a real martyr, and her blood certainly did not feed our society's veins.'
The Satrapi's family maid, whose son receives a plastic key painted goldin school, which is a tactic used by the regime to tempt boys to become martyr's during the Iran-Iraq war. She loses her faith due to the way the regime uses religion to manipulate its people.
'They gave this to my son at school. They told the boys that if they went to war and were lucky enough to die, this key would get them into heaven.'
The Jewish family next door to the Satrapi's who gets killed by ballistic missiles. They refuse to leave Tehran because their family has lived in the city for 3000 years.
'Saturday is the Jewish Sabbath. Wherever they are, Jews are supposed to go home.'
Themes+Key Quotes+Key Points
Quotes'Don't' you think I look like Che Guevara?''Misery! At the age that Marie Curie first went to France to study, I'll probably have ten children…'

'With this first cigarette, I kissed childhood goodbye.

Now I was a grown-up.'

Key Point

The identities of the key characters in Persepolis are predominately shaped by their moral values and political beliefs, and their unwavering commitment to family

relationships.
Quotes'We didn't' really like to wear the veil, especially since we didn't understand why we had to.''God is with us Reza, God is with us.'

'All my life, I have been faithful to the religion. If it's come to this… well, I can't believe anything anymore…'
Quotes
'You'll see. Soon they're actually going to force us to wear the veil…'
'Two fundamentalist bastards… they said that women like me should be pushed up against a wall and fucked. And then thrown in the garbage.'
'She should start learning to defend her rights as a woman right now!'
Key Point
By showing how Marji challenges discrimination against women, Satrapi strongly positions readers to recognise the need to fight for social justice and quality in the Islamic Republic.
Truth, Lies and Propaganda
Quotes
'The BBC said there were 400 victims. The Shah said that a group of religious fanatics perpetrated the massacre. But the people knew that it was the Shah's fault'
'The elections were faked, and they believe the results: 99.99%!1 As for me I don't know a single person who voted for the Islamic Republic. Where did that figure come from? '
'The walls were suddenly covered with belligerent slogans… The one that struck me most by its gory imagery was: "To die a martyr is to inject blood into the veins of society."'
Key Point
The manipulation of the truth by the government for its own political purposes is an inevitable consequence of its unassailable power.
Throughout her memoir, Satrapi emphasises the importance of truth in a creating a just and peaceful society.
Quotes
'I tell you all this because it's important that you know. Our family memory must not be lost'
'I have only one wish, and that's to see my son again, one list time.'
'What I had feared was true. Maybe they'd come to visit, but we'd never live together again.'
Quotes'Come sit on my lap. Ill try to explain it to you.''I bought you some books. You will see why the people are revolting.'

'Listen, child, those are just made-up stories~ What hell? What paradise?'

Key Point

Marji's strong connection with stories leads her to become a writer herself, retelling the stories of her country and her family so that those like Anoosh, who 'lost their lives…defending freedom … who

suffered under various repressive regimes, or who were forced to leave their families and flee their homeland' will not e 'forgotten' (Introduction to Persepolis). In this sense, Persepolis is a story about telling stories, and a recognition of the importance of stories in people's lives.
各位同学们注意啦!请在下方留言区,打上想要我们分析的Novels,short stories,plays以及Poetry 的名称,我们会优先分析前三名哦!
希望对这篇 《Persepolis》 深入了解,想拿高分的同学,
可以来优佳找我们的James老师!
优佳教育,用心教育